A rustic and transformative place
Immersed in the countryside of Trevignano Romano, on Lake Bracciano just a stone's throw from Rome, Borgo del Mastro takes us back to the essence of caring for the land and listening to ourselves in a place where landscape and architecture merge and enhance each other in a powerful love idyll.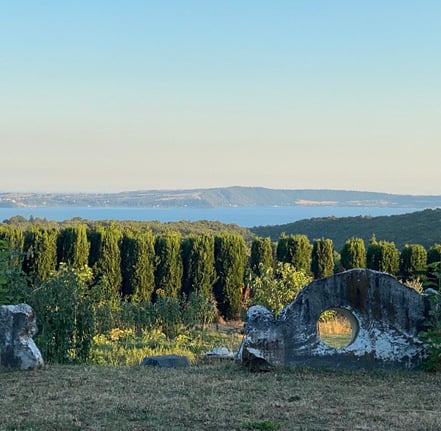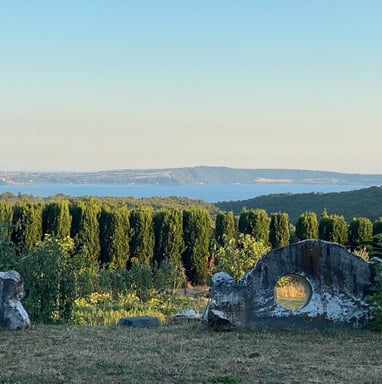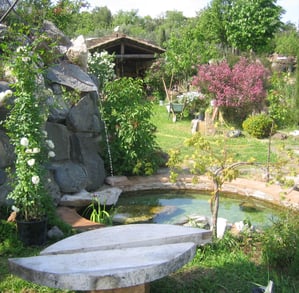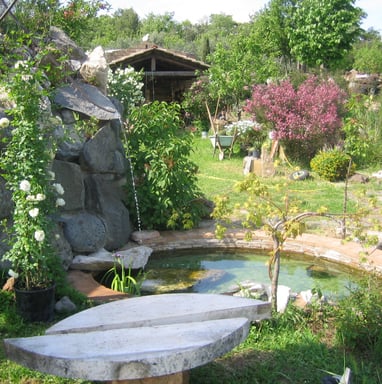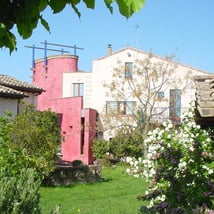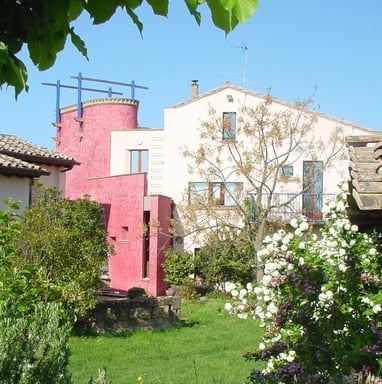 Residential experiential courses
With the guidance of esteemed contemporary Masters, we offer captivating learning arenas for the Soul of the Spiritual Seeker. The courses we host blossom from our deep-rooted love for nature, which teaches us that strong foundations propel us towards spiritual growth!
We work with groups of approximately 15 individuals. Our facility warmly accommodates participants in meticulously curated apartments, where attention is given to every detail. Activities and experiments take place in diverse settings, overlooking the magnificent landscape dominated by the lake: a spacious and luminous hall, suspended gardens, loggias, pergolas, a grove of cork oak trees, a verdant theater of greenery, a blossoming field with panoramic views, clearings surrounded by fruit trees, and the vegetable garden with its terraces. Your stay is always accompanied by exquisite delicacies crafted by the creative hands of an artistic chef, using our own exceptional produce.
Architecture and countryside
The settlement comprises of several volumes arranged in an organic manner across multiple levels, gracefully encircling a central tower and forming an inviting open courtyard. The 'fire chamber' gazes upon the landscape through an eye-shaped opening crafted from volcanic stone. The surrounding parkland is adorned with artistic installations and seating areas, inviting visitors to embrace the diverse opportunities for meditation and relaxation amidst a tapestry of medicinal and floral plant species.
The rustic essence of Borgo del Mastro comes alive in spring with the vibrant green hues of blossoming almond, apricot, apple, olive, and cherry trees, offering a visual feast of pastel-colored blooms. This intimately scaled countryside evokes a sense of familiarity, shielded from external influences, where we carefully preserve and sow seeds year after year, allowing our crops to flourish in harmony with the changing seasons. Our produce, though modest in quantity, exudes exceptional quality, epitomized by our extra virgin olive oil, garden-fresh vegetables, and delectable homemade jams.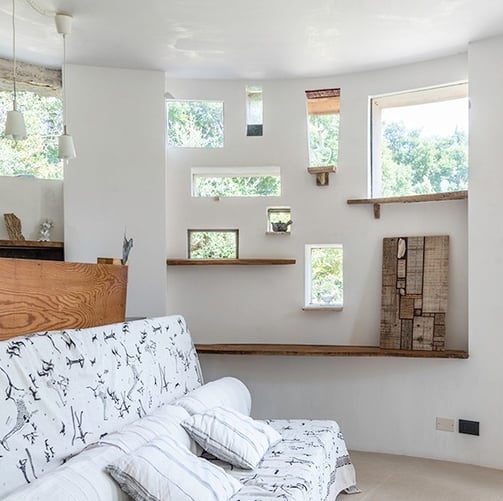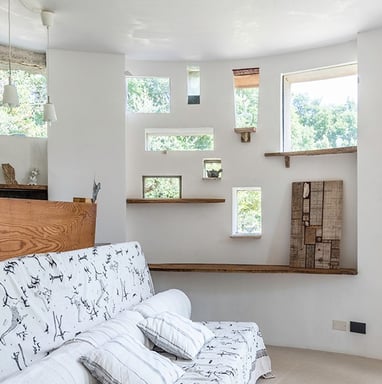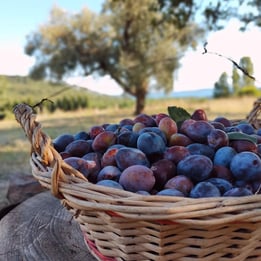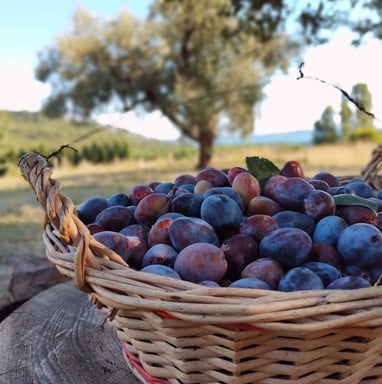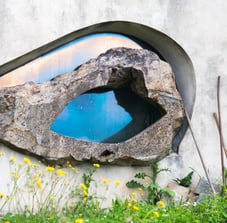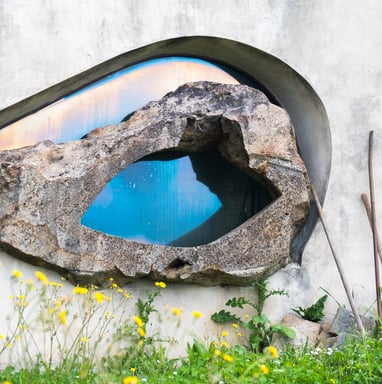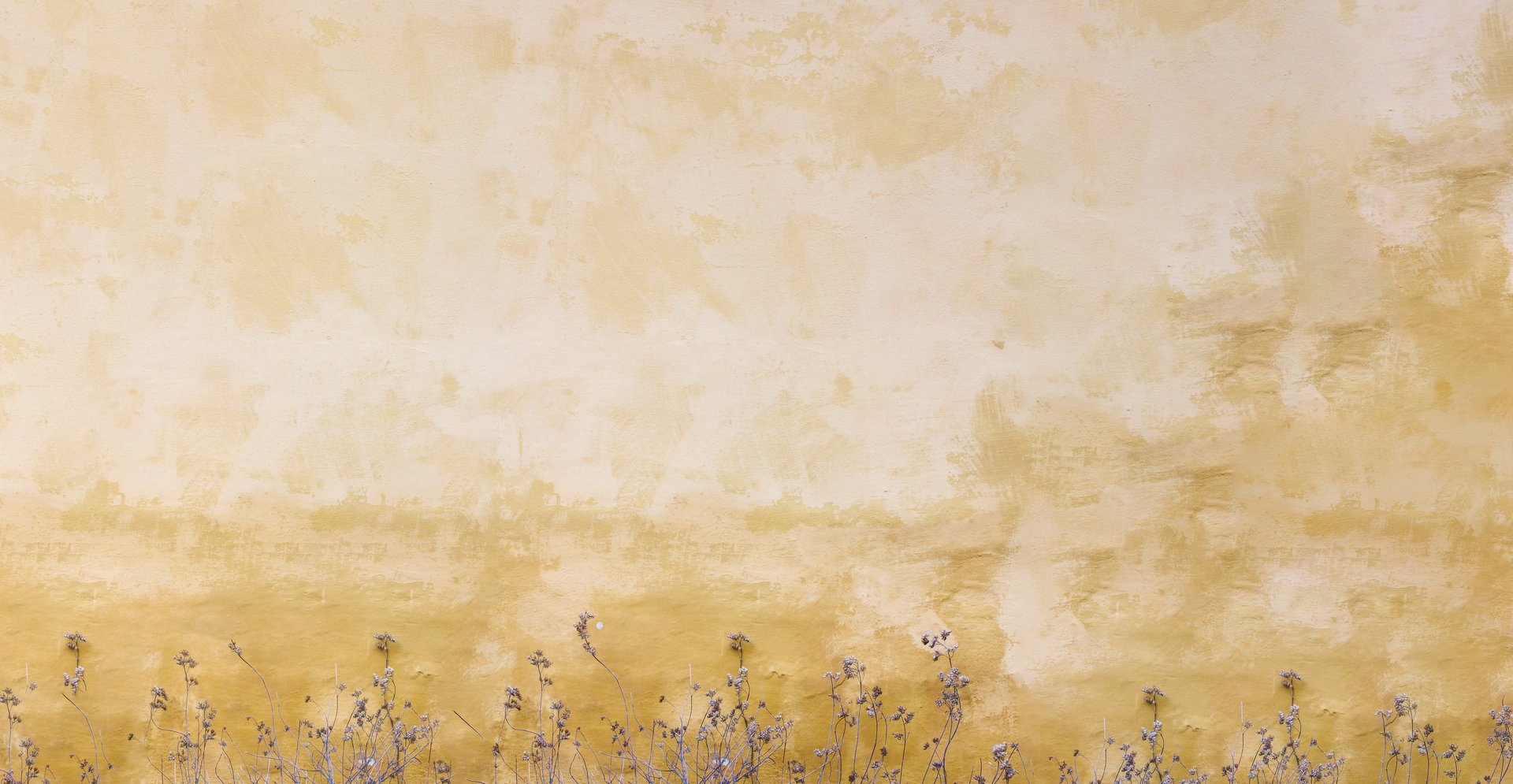 Around three decades ago, when our parents embraced this vision, the landscape hosted only two ancient olive trees surrounded by wheat swaying in the wind. With boundless dedication, our father (an innovative engineer-farmer) immersed himself in the countryside with a joyous and unwavering spirit, while our mother, a rebellious architect unbound by traditional schools and academies (daughter of a nurturing seamstress and an anarchic sculptor), surrendered herself to the genius loci. Their shared love for stones led to a gradual shaping of the land: dry-stone walls and enigmatic pathways emerged, crafting enchanting settings within the lush vegetation that flourished alongside the construction of our home. From the very beginning, acorns found their dwelling here, transforming into majestic oaks, alongside cypresses, cedar trees from Lebanon, chestnuts, limes, hornbeams, apple trees, strawberry trees, jujubes, ginkgos, and countless others—our companions, grown alongside us, their other offspring. The three of us, two sisters and a brother, were fortunate to be raised in this unparalleled sanctuary, where the liberty to commune with nature and explore our individual potentials became a genuine and transformative opportunity for personal growth.